Clinical Unmet Needs in the Cardiology Medical Devices Market
In Cardiology Medical Devices Market Trends Report 2023, our research showed cardiology is the largest medical device market globally, both in terms of volume and value as well as therapeutic area. The market will continue to increase in size driven by the growing geriatric population worldwide, resulting in increased incidence of heart failure and high overall cost of treatment. In 2022, cardiology medical devices were a $34B industry spread out across five different market segments: structural heart, cardiac rhythm management, interventional cardiology, peripheral vascular, and electrophysiology.
Clinical unmet needs are driving innovation in the market for both the European Union (EU) and the United States (US). The needs of the growing patient population continue to evolve, and other contributors include changing care settings, stricter regulations, and advancements in technology.
This article describes the current unmet needs in cardiology medical devices and their impact on the market. More details on the cardiology medical device market trends and challenges can be found in the Cardiology Medical Devices Market Trends Report.
As more patients age and experience heart failure and associated complications, the overall expenditure increases. For medical device companies, this creates a need for lower-cost innovative solutions that reduce readmission rates and/or improve patient outcomes.
Cardiologist Shortage
The shortage of cardiologists is related to the broader physician shortage globally. The existing population of cardiologists is aging (along with the population at large) with nearly 60% of cardiologists aged 55 or older. In 2021, the Cardiometabolic Health Congress predicted a shortage of 29,000 cardiologists by 2025. The impacts of the shortage include reduced patient access, longer wait times, lower quality of services, and increased costs of care. Reducing barriers to becoming a cardiologist, such as making the education process more affordable, would help address the problem. Meanwhile, for cardiology device manufacturers, this situation is an opportunity to increase efficiency in how cardiac care is delivered. The focus is on solutions that enable cross-specialization and ease of use; for example, through the advancement of digital or AI tools that make care more efficient.
Global Microprocessor Shortage
Supply chain issues caused by the COVID-19 pandemic prevented medical device manufacturers from obtaining the necessary microprocessor chips for cardiology devices such as pacemakers, implantable cardioverter-defibrillators (ICDs), and cardiac resynchronization therapy (CRT). The massive shortages had a huge impact, but their impact has lessened. Manufacturers pushed to prioritize the most critical devices and secure microchips through negotiated agreements and one-off deals. Many companies scrambled to secure strategic partnerships. Another tactic pursued by companies was to shift device manufacturing to prioritize devices that didn't need microprocessors. Most crucially in the long-term, the EU and the US have invested in localizing microprocessor production to shorten the supply chain. The microprocessor shortage problem was certainly significant, but manufacturers have found ways to alleviate it going forward. To learn about trends in the U.S. Medical Device outsourcing industry, read "The 2023 U.S. MedTech Contract Manufacturing Report."
Stringent Regulation on Medical Devices
The Medical Device Regulation (MDR) in the EU, which went into effect in May 2021, significantly increased the requirements to launch new devices and required compliance for existing devices. Manufacturers are finding it time-consuming and resource-intensive to meet these new standards.
Growing Heart Failure Patient Population
The epidemic of heart failure driven by the rapidly aging population in both the US and EU has given rise to sub-specializations such as interventional cardiology. This epidemic and the high cost of surgery and care are driving changes in how care is delivered. One effect is the shifting of procedures from hospitals to ambulatory surgery centers (ASCs) where hospital staff can deliver care more efficiently because they are optimally supplied and staffed. Another effect is the move to minimally invasive cardiology procedures, which are more efficient, safer, faster, more cost-effective, and better for patient outcomes. About 40% of structural heart procedures in the US and EU are already minimally invasive, and that percentage is expected to rise. According to a report by Health Payer Intelligence Affairs, ASCs are up to 59% less expensive than hospital outpatient departments for certain procedures. Advances in technology and anesthesia have also made it possible to perform more complex procedures in ASCs, including angioplasty, stenting, and ICDs.
Patient Cost Drivers
The heart failure epidemic is also driving costs up. In the US, heart failure accounts for over 30% of Medicare costs, caused in large part by high readmission rates. The Centers for Medicare & Medicaid Services (CMS) has started to penalize hospitals if patients are readmitted within 30 days of heart failure.
As more patients age and experience heart failure and associated complications, the overall expenditure increases. For medical device companies, this creates a need for lower-cost innovative solutions that reduce readmission rates and/or improve patient outcomes. Hospitals are incentivized to adopt these lower-cost solutions, not just at the initial point of purchase but over the full course of a patient's treatment. For example, bioresorbable scaffolds that are dissolved into a patient's bloodstream are more efficient than permanent stents and can reduce the need for long-term platelet therapy while avoiding stent-related complications.
Cardiology medical device companies are embracing the opportunity to develop solutions that improve outcomes and decrease the overall cost of care. For example, transcatheter heart valves (TAVR) and mitral heart valves (MAVR) have been shown to improve patient outcomes related to structural heart diseases. The dense pipelines within both of those market segments show that the industry understands the opportunity and is investing accordingly.
Proper Training for Clinicians on New Tools and Techniques
Due to the overall provider shortage, hospitals lack staff who can do basic interventions such as catheterization or support with triage. A nursing workforce analysis showed that the total supply of RNs in the US fell by more than 100,000 from 2020 to 2021, and a significant number were under 35. Nurses and physician assistants (who are also in short supply) must receive adequate training on the tools to deliver these common interventions, rather than putting that burden on highly skilled physicians who should focus on more complex procedures.
For the cardiology medical device industry, manufacturers need to make sure that devices and technologies are easy to use and intuitive for less skilled/trained workers. It's vital to involve providers, including cardiologists and nurses, in the product development process so that you ensure that they're comfortable using it.
Status of Unmet Needs
While we expect the microprocessors issue to successfully resolve, in terms of the other needs, it's clear that the overall shortage of cardiology specialists will continue to worsen until the barriers to entry are addressed.
When it comes to the transition of procedures from hospitals to ASCs, that will soon reach a saturation point. Once that transition is complete, providers and device companies will fully optimize the solutions for that setting.
Perhaps the most significant unmet need is the growing incidence of heart failure as the global population continues to age. This need is only going to worsen in the coming years. Cardiology medical device companies must act now to address this challenge.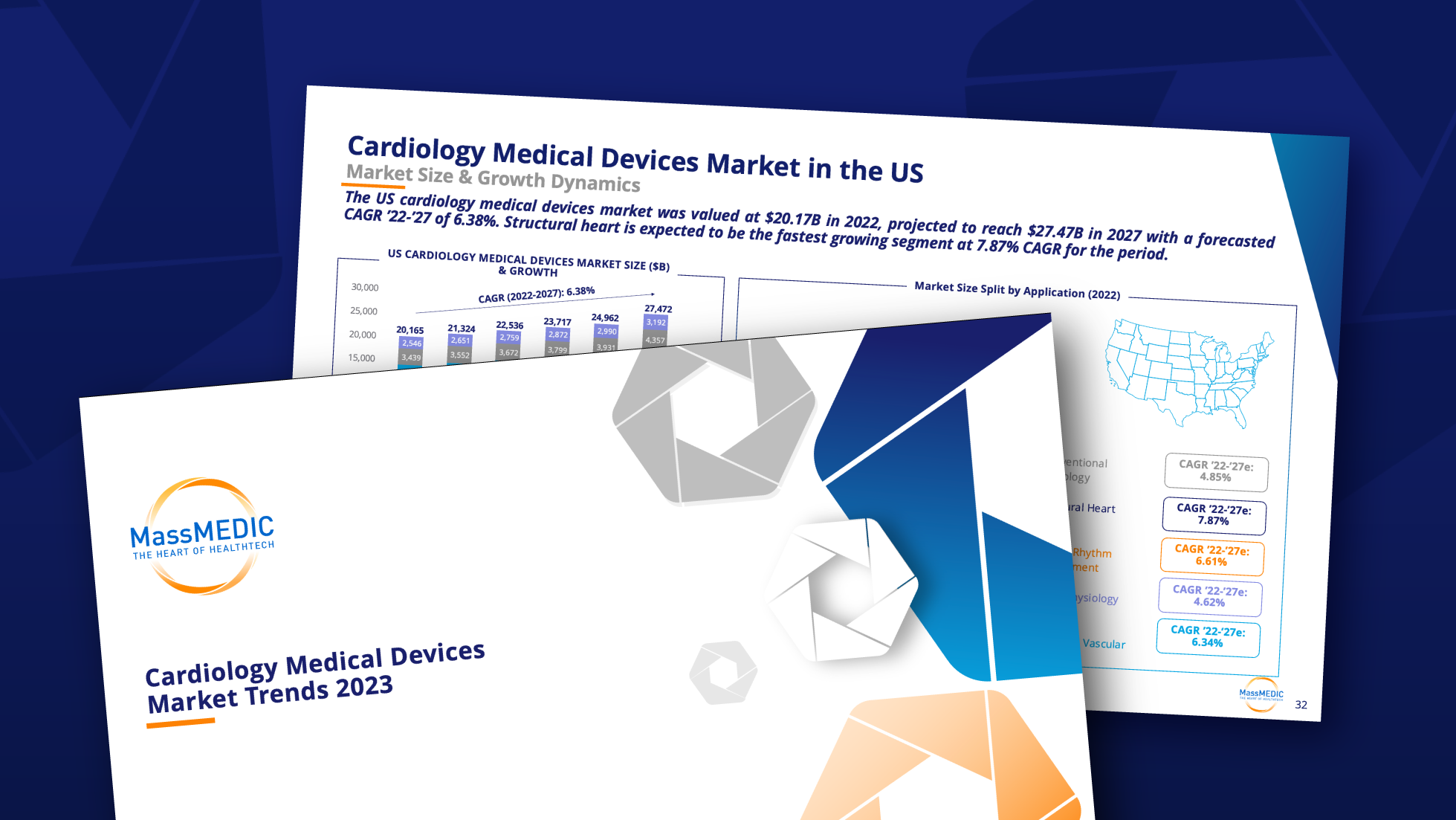 To learn more, download Alira Health's Cardiology Medical Devices Market Trends Report 2023. The report delves into the five market segments, documents M&A activity in the space, and forecasts market growth over the next five years, among other details.
Subscribe to our newsletter for the latest news, events, and thought leadership