Macro Market Trends Impacting Cardiology Medical Devices
Overarching trends, including a growing physician shortage and a move towards non- or minimally invasive Cardiology procedures, impact the Cardiology medical devices market and healthcare at large. Cardiology is the largest therapeutic area in healthcare and the largest medical devices market today, so these macro trends affect Cardiology device manufacturers more than others. The trends affect who delivers care, where care is delivered, and the methods used, and each creates significant opportunity for innovation. This article describes four key macro trends as outlined in our report, Cardiology Medical Devices Market Trends 2023.
Macro Market Trends
The overarching theme of the four key macro trends is increased efficiency and optimization. Device manufacturers must focus on solutions that increase efficiency in how care is delivered and optimize both workflows and clinical decision-making.
Trend 1: Growing Cardiologist Shortage
The American College of Cardiology recently published an article showing that the US is currently experiencing a deficit of about 500 cardiologists per year. The US has an aging cardiologist population – approximately one-quarter of cardiologists are older than 60, which means they are reaching retirement age and potentially exiting the workforce. And fewer cardiologists are entering the workforce through fellowships, so as physicians retire, they are not replenished fast enough. This problem, also felt in the EU, will continue to snowball.
The result is the need for devices that maximize the efficiency and effectiveness of a cardiologist at the point of care. Manufacturers can build technology that is easier to use, more effective, and enabled with increased smart features, potentially including artificial intelligence (AI), that ease the burden of clinical decision-making for the cardiologist. Another issue is how to minimize the time the cardiologist must spend away from the bedside by providing them with accessible data and more efficient patient management. If manufacturers seek to automate hospital workflows with medical devices through interoperable data, pass-through, and data collection, they must improve the technology in digitally enabled cardio devices (such as cardiac resynchronization therapies and pacemakers).
Trend 2: Miniaturization of Devices
Manufacturers have always sought to make smaller devices because it makes them easier to place and more effective to diagnose, treat, and/or monitor patients. Due to the miniaturization of microprocessors, manufacturers can make smart cardiac medical devices even smaller today than they could a decade ago. For example, the initial models of defibrillators weighed 100 kilograms. Today, the industry produces much smaller automated external defibrillators and implantable defibrillators that enable remote access and can weigh less than two kilograms.
The miniaturization trend, seen across the US and EU, is driven by advancements in the fabrication of devices. Manufacturers can make smaller and smaller high-performance tubing that enables them to create smaller and smaller guide wires, stents, catheters, and grafts. These advancements in manufacturing enable doctors to access the places they couldn't reach before and do it more safely and effectively. The result is better patient outcomes during treatment and in the long term.
The trend toward manufacturing smaller devices means that companies can increase ease of use and quality of care for providers while improving patient outcomes. But it also heightens competitive pressure among the big industry players to out-miniaturize each other, striving to create the smallest, easiest to use, most effective device.
Trend 3: Shift to Ambulatory Surgery Centers (ASCs)
This US-specific trend is driven by cost pressures and changes in payer rates. Procedures are shifting from hospitals to ASCs because it's more efficient, cost-effective, and a better care setting for patients. In the context of cardiology, two-thirds of procedures that are performed in a cath-lab today can be comfortably performed in an ASC setting and are expected to shift there. That also includes the placement of devices that leverage catheters or other electronic components in delivery, including cardiac rhythm management (CRM) devices such as implants.
The cost of doing these procedures is much higher in a hospital than in an ASC. This cost pressure drives hospitals and hospital systems to reduce their costs and improve margins by shifting procedures to ASCs. Another factor is that in 2023, the Centers for Medicare & Medicaid Services (CMS) increased payment rates for ASCs by 3%. The reimbursement in the ASC is a little lower, but the rate increase for these procedures is higher than for the procedures being done in the hospital, making margins more attractive. CMS is expected to approve more cardiology procedures for ASCs including electrophysiology (EP) ablations, left atrial appendage occlusion (LAAO), abdominal aortic aneurysm (AAA) repair, and transcatheter aortic valve replacement (TAVR).
Given this trend, in the early stages of device development, manufacturers must think about where and how products will be used. A hospital operating room is a packed environment with multiple providers, monitors, and devices leveraged around the patient, not necessarily optimal for the delivery of care. In ASCs, the goal is to reduce the number of wires in the room and increase the capability of the products that they are using. Companies should design efficient and effective cardiology medical devices for use not in the structure of a hospital operating room but in a smaller and more condensed setting.
Trend 4: Focus on Non-invasive Procedures and Interventions
In cardiology today, providers increasingly use non- or minimally-invasive methods to detect heart dysfunction or other cardiac complications. One example is smart balloon catheter systems designed to more effectively detect when they are in the right part of the patient's blood vessel. These systems provide better ablation therapy and record more accurate blood flow data without being more invasive. Solutions like these enable providers to make better decisions while reducing the impact on patients.
This is a space where manufacturers can add value at each stage of the patient journey by helping providers avoid open surgery. Non-invasive or minimally invasive procedures can aid in screening, diagnosis, treatment delivery, and post-treatment monitoring, while helping providers to better anticipate complications and predict outcomes, with huge benefits to patients. These procedures also reduce costs to hospitals by preventing emergent events from happening and reducing readmissions for patients who have already presented with heart complications.
The motivation for cardiac medical device manufacturers to develop non- and minimally invasive solutions is high, as is the incentive for hospitals to adopt them.
Macro Trends Create Opportunity
The macro trends in healthcare dramatically affect cardiology as the largest healthcare market. Innovators are seeking to improve cardiologist's ability to detect heart disease and related heart complications early, which can have a massive impact on global healthcare because heart disease affects so many people. Each of the trends outlined presents a significant opportunity for cardiac medical device manufacturers and should be considered in strategic planning and device development.
To learn more about the cardiology medical devices market in the US and EU today, download our report Cardiology Medical Devices Market Trends 2023. You'll get details on the five market segments, deal flow and pipeline analysis, and the market outlook.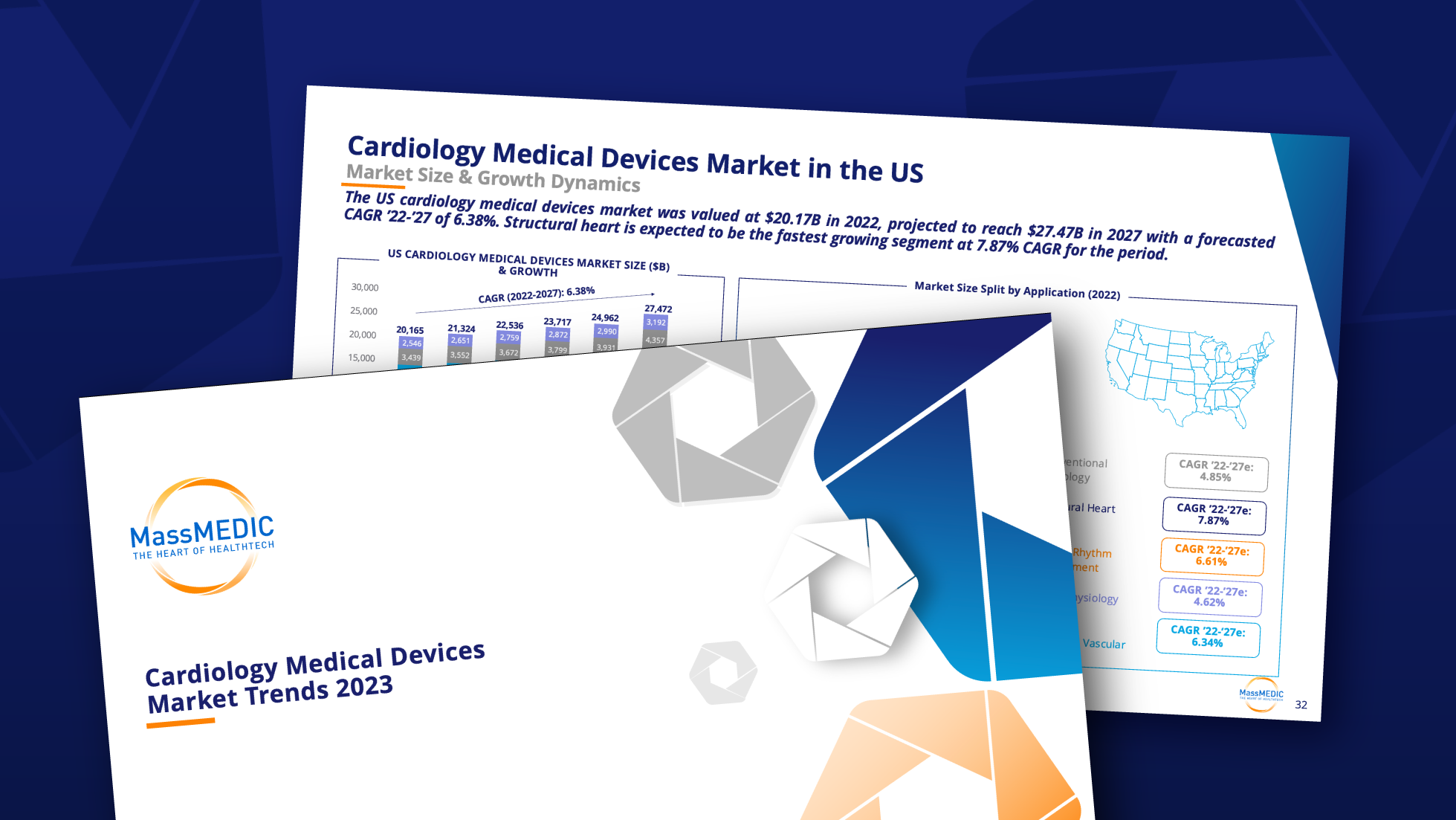 Subscribe to our newsletter for the latest news, events, and thought leadership