Pharma
MedTech
EU
US
M&A
CDD/VDD
Asia-Pac
Strategic advisor: BENVIC acquires LUC & BEL
With the acquisition of Luc & Bel, Benvic further strengthens its position in the medical sector. Luc & Bel is an Italian company specializing in the design and manufacturing of medical device components. Luc & Bel is now well-positioned to accelerate its growth with the many synergies and international presence of Benvic.
Advisor: Sagard NewGen invests in Laboratoires Delbert
Laboratoires Delbert's recent capital raise of €40m supports its growth strategy and mission of keeping essential medicinal products on the market and available to patients around the world. Alira Health advised Sagard NewGen on this equity investment.
2020
Pharma
EU
US
M&A
Asia-Pac
Exclusive strategic advisor: AGC Biologics acquires MolMed SpA
AGC Biologics has acquired MolMed SpA and is now one of the few companies offering both plasmid production and cell and gene therapy services. The Alira Health team played a key role in uniting these two innovative organizations, drawing on our CDMO and biomedical expertise.
Strategic advisor: GVS Filter Technology sells to Biomedical Innovations
GVS Filter Technology is one of the world's leading manufacturers of filter solutions for applications in the healthcare and life sciences, energy and mobility, and health and safety sectors.
Strategic Advisor: GVS Filter Technology goes public
GVS Filter Technology's initial public offering (IPOs) is the first on the Milan bourse's main market in 2020 and the second-biggest in Europe, at 570 million euros.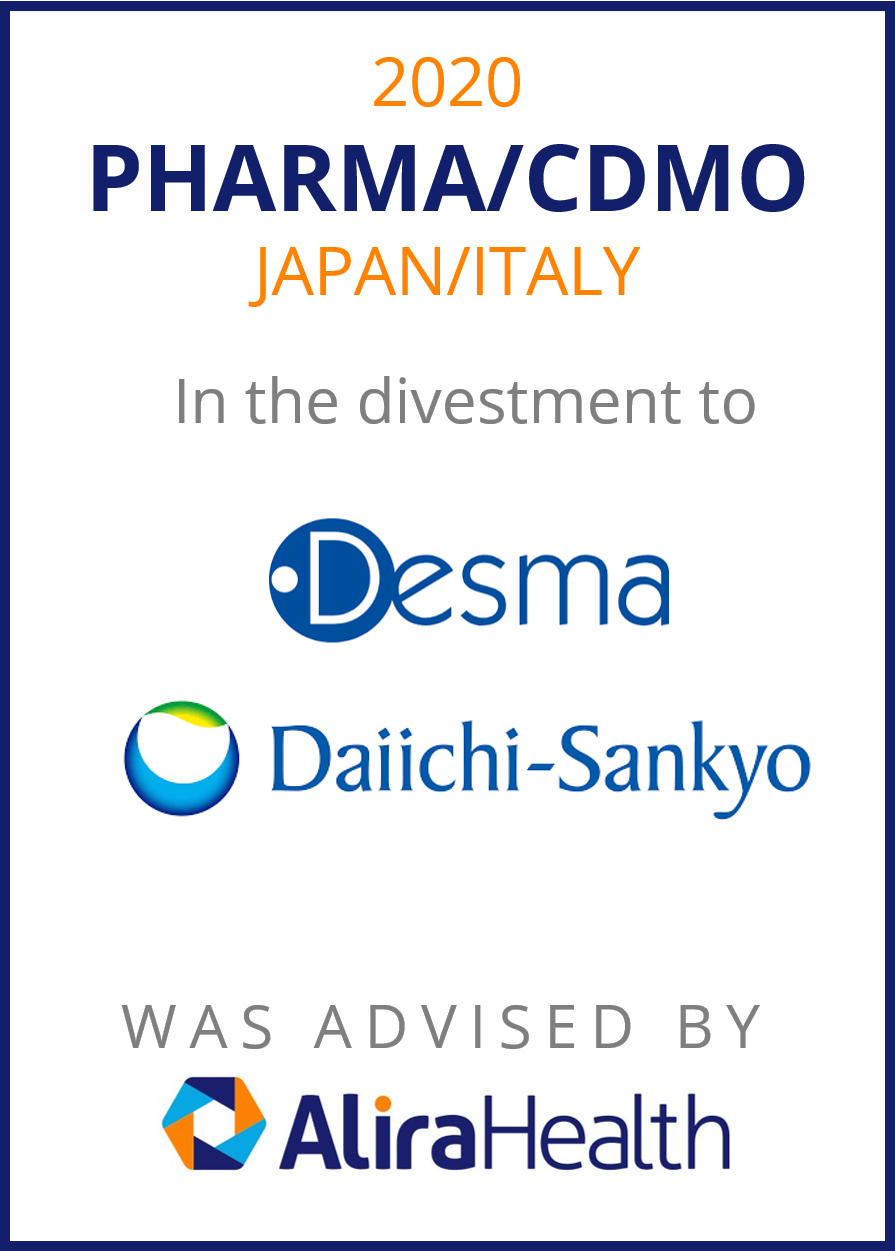 Transaction advisor: Daiichi Sankyo sells LOPRESSOR®, ICAZ®, and MIOREL® to SIT Laboratorio Farmaceutico (DESMA HC Group)
This acquisition represents a significant elevation for DESMA HC Group in the French market and an opportunity for Daiichi Sankyo to optimize the allocation of its resources and focus on oncology within that market.
Buy-side advisor: Europlant Group acquires PlantExtrakt
Europlant's acquisition of Plant Extrakt supports their geographical penetration into a region with high market potential. Europlant is a German developer and manufacturer of herbal pharmaceuticals and medicinal teas.
Buy-side advisor: SIFI acquires Dacudoses® and Novoptine ® from Gifrer Barbezat
This acquisition by SIFI, an Italian ophthalmic company, will accelerate its penetration into the French market—one of the largest and most competitive markets in Western Europe.