Partnerships
Our partners are global, so are we. Working with strategic partners allows us to embrace the whole healthcare and life sciences ecosystem and build bridges between countries.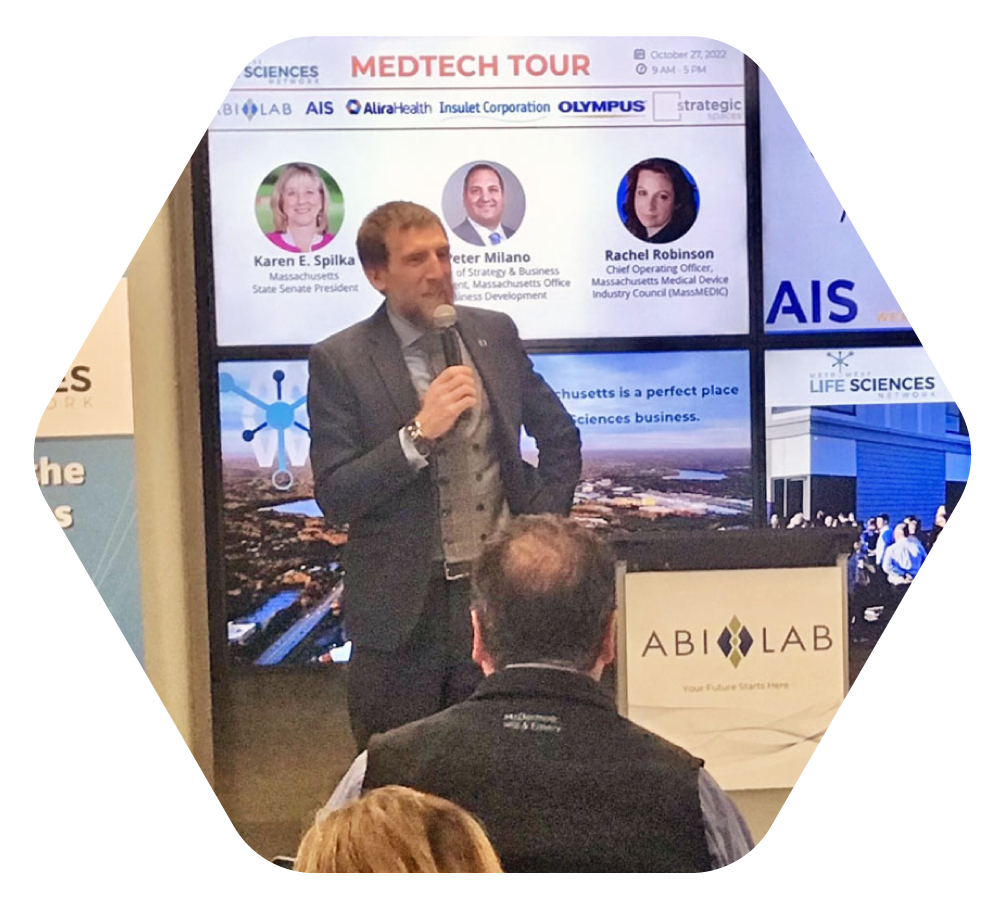 ALLIS-NA
ALLIS-NA (Alliance Innovation Santé Nouvelle-Aquitaine), is a cluster at the service of all players in the health sector in the region Nouvelle-Aquitaine. It fulfills the dual requirement of providing competitive support to innovation stakeholders in the health sector and aims to accelerate regional economic development.
AseBio
AseBio, the Spanish Bioindustry Association, brings together and represents the interests of companies, associations, foundations, universities and technology and research centres that work in the field of biotechnology. Read about the partnership.
Federated Innovation @MIND
The Federated Innovation @MIND is an unprecedented ecosystem which fosters innovation through shared resources, technologies, and programs; a horizontal leadership model that creates an entrepreneurial culture and new synergies for growth. Read about the partnership.
France Biotech
France Biotech, founded in 1997, is an independent association that brings together entrepreneurs in health innovation and their expert partners. As a leader of the health innovation ecosystem and privileged interlocutor of the public authorities, France Biotech contributes to meeting the challenges of the HealthTech sector and to proposing concrete solutions. Read about the partnership.
Wound Healing Society
Founded in 1989, the Wound Healing Society (WHS) is the premier scientific organization focused on wound healing. A nonprofit organization composed of clinical and basic scientists and wound care specialists, with a mission to improve wound healing outcomes through science, professional education, and communication. 
Capital Cell
Capital Cell is the first online investment platform in Europe specialized in Health and Biotechnology. It is authorized and supervised by the National Securities Market Commission, and offers the possibility of investing in companies that have passed an exclusive analysis to try to reduce the implicit risk of any investment.
Legit.Health
Legit.Health is the Revolutionary Clinical Data and Communication tool for Next-generation dermatologists that triples the empowerment of patients. Read about the Partnership. Read about the partnership.
Policy Matters
Policy Matters is an independent consultancy offering end-to-end market access solutions. Read about the partnership.
Myasthenia Gravis Foundation of America
The Myasthenia Gravis Foundation of America (MGFA) is the leading health-based non-profit solely committed to finding a cure and better treatments for people living with the neuromuscular disease Myasthenia Gravis. Read about the partnership.
Gemelli Digital Medicine Health
Gemelli Digital Medicine and Health Srl (GDMH) is a Prime Integrator of Digital Medicine and Health Products and Services through co-creation and co-development strategies. Read about the partnership.
Humanitas Research Hospital
Humanitas is a highly specialized teaching and research hospital. It combines specialized centers for the treatment of cancers, cardiovascular diseases, neurological and orthopedic disorders, as well as an Ophthalmology Centre and a Fertility Center. The hospital is also equipped with Emergency and Radiotherapy areas.
Institute for Research in Biomedicine 
IRB Barcelona is a biomedical research center that works to achieve a society free of diseases. Their mission is to carry out multidisciplinary research of excellence to offer pioneering solutions to unresolved medical needs in cancer and other diseases linked to ageing. Read about the partnership.
H-FARM
With the H-FARM model, which combines business services, startup innovation and education, it is creating a unique innovation pole at international level, a privileged observation point on the future, new trends in the world of work, technological development and how digital transformation affects the social context. 
Padua University
The University of Padua is an Italian university located in the city of Padua, region of Veneto, northern Italy. The University of Padua was founded in 1222 by a group of students and teachers from Bologna. Padua is the second-oldest university in Italy and the world's fifth-oldest surviving university.
Science Center
For 60 years, the Science Center has been at the forefront of innovation in science and technology that elevates the region and enriches the world. It is a mission-driven nonprofit, working to advance Greater Philadelphia's innovation ecosystem through initiatives that foster new discoveries. (United States) Read about the partnership.
We believe empowered and educated patients are the key to radically improving the patient journey. Alira Health's global presence will help us to share the advantages of the Federated Innovation's 'collaborate to compete' innovation model with the world.
Patients from around the world require data privacy, and now they can safely and securely share their data to help research sponsors make MG discoveries that could lead to better outcomes and treatments.
Over the years we have worked alongside several HEOR and pricing consultancies but have finally found one that perfectly complements our offering.
We at GDMH look forward to this collaboration in order to bring our digital solutions closer to the clinical research domain in a pragmatic and efficient way. It will help deepen each party's capabilities and bring lessons and solutions to GDMH, the healthcare and Pharma industries, as well as to the medical community and patients, and possibly to other industry sectors.
Pharma cannot make drugs of the future using tools of the past. Our advanced dermatology technology combined with Alira Health's cutting-edge approach to digital health solutions is a game-changer for the industry.
We are pleased to collaborate with Alira Health. Alira Health's broad range of tech-enabled consulting and advisory services, complemented by its mission to humanize healthcare, is where our industry is headed.
As we push further into the MedTech space, gaining access to Alira Health's expertise is a win for Philadelphia's life sciences ecosystem and positions our companies for the best chance of success.